Welcome to Funky Cards- Day 2
Labor of Love Halloween Blog Hop
**September 2nd-3rd Group 1**
September 4th-5th Group 2
If you arrived from
Cardmonkey's Paper Jungle
you are in the right place. By now you know this blog hop is something special. Each stop along the way, you will be treated to a Boo-tiful Halloween Banner designed and created by our talented participants.
The wonderful ladies have agreed to donate their banners to
Pediatric Specialty Care
, a pediatric care facility that cares for medically fragile children. As a special treat for the children, the staff will be decorating the facility with our banners for the Halloween season. How cool is that?
My spooky little Create a Critter banner was really fun to design and create.
The animals all measure 3" and are hiding behind custom made masks!
Up close you can see that the Swiss Dots Cuttlebug embossing folder was used on both the animals and the pumpkins.
After the masks were in place, glue was used to attach the googly eyes.
Here is what the banner looks like hanging in the doorway of my craft room:) I am so happy to be co-hosting this blog hop donating my banner to the kids at Pediatric Specialty Care.
Here's how you can be a part of this experience too. After you have visited all the amazing blog stops, create your own Halloween card and link it to my blog, click
HERE
. Mail the card to me (follow link for all info.) and I will forward your card to
Pediatric Specialty Care
:) We are hoping to get a card to give to each child!
****You may want to consider becoming a follower of my blog. Each month I select a new recipient for the "
I Feel the Love Project
" and we work together to send cards out to spread the love to someone new!! It feels amazing****
This blog hop and all the fantastic prizes we are offering would not be possible without all of our awesome sponsors.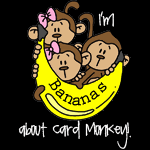 To be eligible for a prize:
**Leave a comment on Day 1 or Day 2. (Fri./Sat.)
**Leave a comment on Day 3 or Day 4. (Sun./Mon.)
**Thank a sponsor/s for sponsoring our hop by clicking on the icons listed above and leaving a message on our sponsor/s blog saying "What a good GHOUL you are for sponsoring the Labor of Love Halloween Hop happening today."
**Link a Halloween card to
Funky Cards
with the link provided
HERE
and donate it to the children at Pediatric Specialty Care.
We will be using Random Organizer to match our prizes to our winners. You can enter all of the categories 1-4 and be eligible to win every prize:) There may be more than one winner in some categories and the more comments you leave the better your chances!!
There are some amazing banners to see today! Time to head
over to the super talented
Jess from KinderStampO
to check
out her Boo-tiful banner:)
I will be linking this banner to:
Thank you for stopping by!
~Madison